September 29th, 2016. Coffee is always a good idea. I think everybody loves coffee. Well, not really everybody, but I was surrounded by people that love coffee very much. It's like, you cannot survive a day without coffee. And there're a lot of coffee shops, nowadays. I knew people that should drink coffee to do their job right. I used to love coffee. Actually, I still love coffee. There's something about coffee that was calming and soothing. And just now, I was at this new place that opened yesterday at Grand Indonesia East Mall. Powered by Ombe Kofie, I trust the quality. Maarkeze.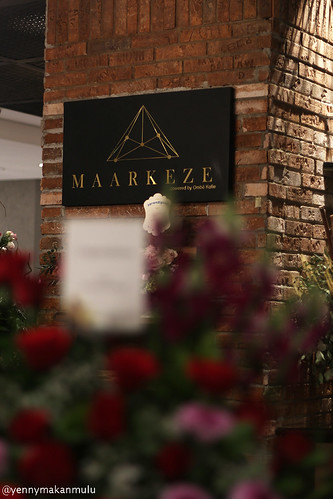 I heard that the owner of Maarkeze, Ombe Kofie and Djule Kofi was the same person. After opened coffee shop in North Jakarta, then South Jakarta, now it's time for Central Jakarta. By the way, that's why they called it Maarkeze. It's an Arabic etymology, means "markas" or a place to hang out for one community. They chose the name as a symbol that they unite Ombe Kofie community in North with Djule Kofi community in South, stick together in the middle, as in Central. In Maarkeze. Located inside Central Department Store, at first I thought it will be like a coffee shop. But when I arrived this morning, I found out that it was like a small stall. People there were very friendly. They told me that they just opened yesterday. So crowded. Full of people. Whoaaa.. it's very good, right? Then, I took photos while waiting for my buddy, Hans. The place is so beautiful. Love the way they decorate it. Lovely and homey with modern look. Very comfortable.
Fortunately, I went there in the morning, so I still got a table. They made it different on each side. The left side was stool bar seats, and the right side was square tables with four seats, and they had this sofas with antique trunk coffee table. There're still flower displays around the counter. Also balloons. When I arrive, the sofa was occupied. So I took the table.
The Menu
Regular White 45k
I told them that I cannot drink coffee because sometimes it's too strong with high acid. Bad for my stomach. So they made this regular white for me with low acid. It's not sweet, so it's good I guess. And, I love it. Well, I still didn't finish it. But I felt so good that I could drink a cup of coffee, again. They even said, "If it's too strong for you, it's free!!" LOL. Thanks guys.
Salted Caramel White 55k
I love salted caramel. They recommended this one for us. It's actually a little bit too sweet for me. But for those who love sweet salted caramel, try this one. You won't regret it. Thanks again guys.
Cold Brew Nitro 50k
I guess it's my first time try cold brew nitro. They said it's kinda new innovation. CMIIW. What they're doing is combining cold brew with nitrogen. It was good! The texture was very light. Smooth and fluffy. Can you imagine? No? Ok, you should try it. Actually, I just met this nice girl, Jojo. She gave us a try to this one. OMG! Thanks again and again.
Tuna Crostini 60k
Toast sourdough with tuna, boiled egg, mayonaise and cucumber pickles
I love tuna. And this one, recommended! You should try this one. Tuna and egg and mayonaise. This new spot was really spoiling my taste bud. The toast sourdough was perfectly crunchy. Oh.. btw, they should make the tuna bigger! Please!!!
Crostini are an Italian appetizer consisting of small slices of grilled or toasted bread and toppings.
Chicken Avocado Crostini 60k
Toast sourdough with smoked chicken, avocado cream cheese, rocket leaves and pesto dressing
This was complimentary from Ajie. Thank you! Too bad, I didn't like avocado. So when they made it with avocado cream cheese, I was like, "OMG! Not my thing!" But I love the smoked chicken. Well for me, I prefer they used cream cheese without avocado, or they replace the avocado cream cheese with more pesto dressing or melted cheese. Maybe I can make them do that for me when I come back again. Hmmmm.. *devil smile* Anyway, for avocado lovers, they will love it.
Smoked Chicken Pesto Sandwich 70k
Rye bread with smoked chicken, rocket leaves, pickles, pesto spread and mayonaise
This one was simple and delicious. The smoked chicken was tender. I found myself enjoying this sandwich very much. The melted cheese was my favourite too. At first I thought the rye bread will hard to chew. Turned out, it was in a perfect texture. Need more pesto spread, though.
Rye bread is a type of bread made with various proportions of flour from rye grain. It can be light or dark in color, depending on the type of flour used and the addition of coloring agents, and is typically denser than bread made from wheat flour.
Thanks Ajie and Jojo and everyone at Maarkeze. I had fun today. Hope to be back again.
Maarkeze
Central Department Store Level 1
East Mall Grand Indonesia
Jl. M.H. Thamrin No. 1
Menteng, Jakarta
IG: @maarkeze